Dolly Parton's Imagination Library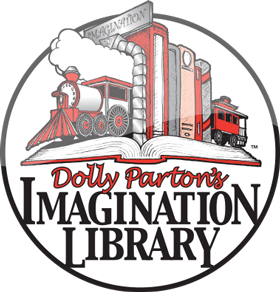 The Rotary Club of Charlottesville is proud to partner with Dolly Parton's Imagination Library to support early childhood literacy in the Charlottesville/Albemarle area.
What is the Imagination Library?
Dolly Parton's Imagination Library is a 60-volume set of books beginning with the children's classic The Little Engine that Could. Each month, a new and carefully-selected book will be mailed in your child's name directly to your home. Best of all, it is a FREE GIFT. There is no cost to your family.
Who is Eligible?
Preschool children between birth and five-year-old who are residents of zip codes 22901, 22902 or 22903.
What are the Responsibilities of Families in the Program?
1. Be a legal resident of zip code 22901, 22902, or 22903
2. Submit an official registration form, completely filled out by a parent or legal guardian. (Form must be approved and on file with the Rotary Club of Charlottesville)
3. Notify the Rotary Club of Charlottesville any time your address changes. Books are mailed to the address listed on the official registration form. If the child's address changes, please contact the Rotary Club at the address or phone number listed below in order to continue to receive books.
4. And most importantly, Read with your child.
When will I Receive Books?
Books will begin arriving at your home eight (8) to ten (10) weeks after your registration form has been received. Deliveries will continue each month in your child's name until they turn five years old, or if you move out of the zip codes listed above.
Where do I get the Registration Form?
To support the Imagination Library in the Charlottesville area?
This program is offered free of charge to any children under age 5 in the above zip codes - all you have to do is enroll. The Rotary Club of Charlottesville sponsors each enrolled child, but welcomes additional contributions from families and local donors. For example, if your family is enrolling a new child in the program and able and interested in supporting this program, please consider contributing $50 per year to support both your child and one other young child in the CVille area for that first year. You may contribute via Venmo (
@CVille-Rotary
) or by sending a tax-deductible check to the address below. Thank you very much for your consideration and support!
Questions, Contributions or to Updates to your child's mailing address?
Please contact:
Rotary Club of Charlottesville
PO Box 7302
Charlottesville, VA 22906
(434) 293-9104, ext. 103